The Only Hebrew Cemetery in Northern Ontario
Not Forgotten on the Back Roads
by Back Roads Bill Steer
While other things fade, stones and souls endure.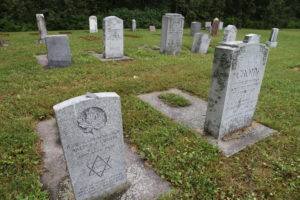 It is said that one of the first communal obligations is to provide for the dead. In the case of some Jewish settlers the establishment of their cemetery took on certain urgency.
Northern Ontario Jews from other communities are buried here; the only such dedicated Hebrew cemetery in the northeast. There are more than 100 burial plots in the cemetery including a war grave.
Krugerdorf was founded as a farming homestead in Chamberlain Township in the early 1900s, about 25 kilometres south of Kirkland Lake. Not officially named Krugerdorf until 1949, the area was largely settled by a number of German families. The town was given the name "The German Settlement" until it became to be called Krugerdorf.
One of the first settlers was August Kruger, a farmer and blacksmith from Germany. Having migrated to Renfrew County in 1879 (northwest of Ottawa), August and his son Frank left for northeastern Ontario, then called "New Ontario" in 1905, where he was given deed to 800 acres of land. Kruger established a farm, and a blacksmith shop, and helped provide ties and spikes to the Temiskaming and Northern Ontario Railway, which would become the Ontario Northland Railway.
The area also had a noticeable Jewish homesteading community. With the help of the Baron de Hirsch Institute of Montreal, an organization that helped Jewish immigrants to move to Canada, a small Jewish farming community was set up in the area. Free land was offered to settlers along the railroad between 1905 and 1915, attracting Jewish settlers from Russia and Romania, where they couldn't legally own land. Among the colony were such names as Henerofsky, Gurevitch, Feldman, Levy, Goldstein, Abraham, Frumpkin, Verlieb and others. There were about fifty families in all. Eventually, the town developed, with a school, a Lutheran church, and a synagogue.
Abramson – Long Way from Home
Henry Abramson was born and raised in Ansonville, now part of Iroquois Falls.  Through some extensive online sleuthing he was located as the  Dean of the  Lander College of Arts and Sciences in Flatbush, New York. He received his doctorate from the University of Toronto and has authored many scholarly articles (www.jewishhistorylectures.org).  He has had appointments at a number of institutions including Oxford University, Cornell University, Harvard University, and Hebrew University.
In an article ' Just Different: The Last Jewish Family of Ansonville, Ontario' he sets the scene of rural and resource based northern Ontario.
"I was six years old when Ansonville lost its name. Like my father before me, I was born in this remote milling town, located some 450 miles north of Toronto on Highway 67, a spur off Highway 11 just before it begins to curve west. Unlike my father, I grew up as an only child, in two senses: I was the only child of my parents, and I was the only Jewish kid in town, while my father was the second youngest of seven, and grew up in the small but active Jewish community of the 1920s through early 1950s. By the time I was born, a new Jewish child was sufficiently unusual that it was the occasion of general celebration. Amohel was brought up from Timmins, and a month later Harry Gramm, the snowplow driver from South Porcupine and the Cohen of the North, came to perform my pidyon ha-ben."
The Abramsons were among the first Jews to settle Northern Ontario. Three brothers—Louis, Nathan and the youngest, my grandfather Alex Abramson—fled Lithuania to avoid conscription for the Russo-Japanese War in 1904, attracted by land grants in the area of Krugersdorf and Englehart.
In the Beginning
Henry's mother, Ethel and her husband, Jack operated a well-known, clothing store in Iroquois Falls and she explained the history behind the cemetery.  She is one of two Jews remaining in town.  "The Northern Chevra Kadesha Cemetery was established  when some Jewish pioneers died in a canoeing accident. Morris Perkus and his son Ben were returning from Englehart station with three new immigrants from Europe when their boat was caught in a surprise current and took them over a waterfall.  When the bodies were recovered some time later, they were interred in a section of farmer Simon Henerofsky's property. This property was deeded in 1910 to the Hebrew congregation in Englehart to be used as a cemetery."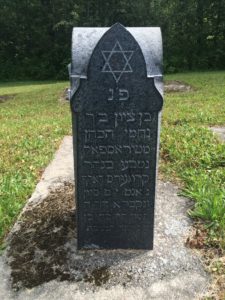 Henry described a head stone from 1908, "One of the first–the cemetery was started when several Jews drowned while making their way up north by canoe.  The Hebrew reads: "Here lies Ben Tsion ben Nehemia ha-Kohen from Tiraspol, drowned in the river. Krugersdorf N[orthern] Ont[ario]  19 Sivan [18 June] and buried 1 Tammuz 5668 [30 June 1908], May his soul be bound up in the bonds of life. Listing the dates of death and burial separately are unusual because Jewish law requires very rapid internment–ideally the first day. The only reason to delay is if it would benefit the deceased (allowing more family to come to ceremony, for example, or in this case, purchasing a plot for burial)."
Despite high quality soil, frosts killed crops and markets for beef and grain were distant. After the Second World War, the Krugerdorf farming community really began to wind down as children left the farm for work in local towns. All that is left today is the cemetery, a testament to the settlers of a bygone era.
The small piece surrounded by hay fields  would eventually serve the Jewish populations throughout northeastern Ontario including Sudbury and North Bay.  Today, the  cemetery is maintained by a smattering of  Jewish residents remaining in northeastern Ontario and northwestern Quebec.  Today it is bordered by mature aspen trees and a wrought iron fence.
Tiny Jewish populations in nearby Englehart  and Cobalt also used this cemetery founded in 1908. Kirkland Lake's  Jewish population was about 125 Jewish families in the early 1930s.  It boasted "a synagogue, a Hebrew school, a chevrah kadishah and, at one time, a kosher butcher and a Jewish men's softball team." The synagogue was sold in 1971; its Ark is now in the chapel of Beth Tikvah Synagogue in Toronto."
Henry Abramson recalls.  "As a child, I remember regular pilgrimages to the small Jewish cemetery at Krugersdorf, which covered an area roughly equivalent to that of a hockey rink. I remember in particular the unveiling of the headstone for my grandmother Polly (Pafke) in1971, when two dozen or so Jews gathered from Cochrane in   to Timmins in the south to pay respects at the slightly neglected ancestral burial ground. I vaguely remember that the old iron gate was locked, but I found a small footpath so we left the cars on the gravel road and carefully made our way through the brambles in our best clothes. There was a medium sized shed on the graveyard grounds, and after the unveiling the last Jews of the north stood around and shared a small meal that consisted primarily of hard-boiled eggs."
I asked Dr. Abramson about the significance of this cemetery. "Culturally and religiously extremely important, but the Jews of the north are almost all gone."
It is for good reason, rather than establishing their own cemetery, many Jewish communities mainly continue to rely on cemeteries in Toronto, Montreal and Ottawa; people like to be buried near their families. There are  occasional burials in Krugerdorf, however, most now want to be buried near their kin in the big cities such as Henry's mother who will join her husband interned in Toronto.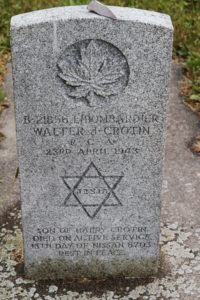 He said, "The children's tombstones are especially sad. There's also some strange ones.  Here's one nice thing – Jewish custom is to leave a stone on the tombstone of the person you are visiting. When I go up with my kids, we like to leave a stone on all of them, since they get so few visitors."   There is one war grave, bombardier, Walter J. Crotin, who died in action on April 23, 1943 with reference to the Jewish (lunar) calendar, 13th day of Nissan (spring) 5703.
Leave a Stone
When you visit you will notice that some tombstones have small rocks or pebbles on top of them. By placing a rock or a pebble on top of the tombstone, the deceased are honoured by letting people know that the gravesite has recently been visited.  When others notice the rocks, they will see that this is a grave visitors frequent, and they too will take an interest in who is buried there, and perhaps will visit the gravesite themselves or will visit the sites that have not been visited.  Also, while placing a rock on a tombstone is an old Jewish custom, placing flowers at a gravesite is not. In life, people may enjoy the beauty of their physical surroundings, but when they die, all of their material possessions and beauty are meaningless and left behind. It is only their accumulated spiritual wealth that remains immortal, just like a rock, which stays forever.  The act of placing a stone is called a "mitzvah'" In Yiddish, a mitzvah often means "a good deed"—as in "Do a mitzvah and help Mrs. Goldstein with her packages."
The cemetery is located halfway between Engleheart and Kirkland Lake. Travel north of
Engleheart about 12 km.  Turn east on Aidie Creek Garden Rd, (Chamberlain Twp.) and travel 4.8 km you will cross Wabewawasa Rd (N/S) and it is 0.6 km from there on the south side. There is Jewish heritage in our family tree, stones were left, take some when you visit.  Shalom. (shah-lohm).